A few days ago, me and Bubbel went back in time. To be a bit more specific, approximately 200 years, which is more less three times our total K&B age.
After travelling from London to Vienna for almost 9 hours, we finally landed on the Austrian land. And no, this is not a typo. 9hrs is exactly how long it took us to get from Heathrow Airport to Vienna. Hot summery weather in London finally surrendered and made room for clouds, thunders and storms. As a result, we got stuck on the plane for hours. Not up in the air though. Very close to the land. Not moving.
Usually quite impatient when it comes to technical issues Bubbel, was this time surprisingly calm. He sat quietly like a little Austrian mouse (I don't know if this is the best comparison as he actually hates cheese, but hey!) and with even more patience he was attending to all my requests. And I had quite a few, as I simply could not sit still. As a result, I was thirsty, then hungry, then I'd lost my earphones. Shortly after I wanted to watch a movie but, of course, I had forgotten to download one before. You know, just simple down to earth problems, which can only be faced by less than Bubbel regular flyer.
However, finally we made it to Vienna, where we were greeted by pouring rain. Luckily, our hotel was just few steps away from the airport. It was a very friendly, not too expensive and slightly geeky Moxy hotel. We got our keys and headed to the room.
Oh, and I must not forget about this little cheeky incident; so we are standing in the queue and there are few little kids running around. One blond goddess, approximately 3x years of age, suddenly stops in front of B and with the cheekiest way you can imagine – she winks at him. Turns around and leaves. I was totally gobsmacked, ready to give B a lecture on what I thought was the right and wrong behaviours of under 10 year olds in current society, when he announced, that HE DID IT FIRST! I don't know what is worse. Finding out that he is hitting on another woman(!) in my presence or that she dared to wink back. Overall, not as drastic, but a rather hilarious scene.
We wake up at 8am the following morning. We collect our car and head in the direction of Burgenland. On the way there I am trying to research the origin of the name of this region, which borders the Austrian state of Styria to the southwest, Lower Austria to the northwest and to the east borders Hungary. However, good old Wikipedia gives me far too much information I can take in on an empty stomach and without coffee, so I simply decide I will make up my own story when we finally get there.
We leave vibrant and hot Vienna behind. In no time at all, we observe the change in scenery. The land of nothing but fields, covered with dry sunflowers and corn and… what we are soon about to find out, railways. Old, not used by trains but most definitely not left without purpose, railways. It seems that old rail tracks can be used to help people have fun. A lot of fun! We are arriving at the land of draisins. The Sonnenland near Lutzmannsburg
And trust me, you can find something for everyone there. Draisins for 2, for 4, for 7 – whatever you wish. As we are 7 people, we go for the obvious 7-seater choice. These are tourist draisins, which work similarly to a bike; at the front you have a handlebar, pedals under your feet and off you go. We are starting at a rather slow pace. Slowly enough to admire the beauty of the nature, but fast enough to feel the wind in our hair. And I have good news for ladies, or those, who are not so keen on getting sweaty but prefer a relaxing time – on a seven seater there are only 3x seats for those who need to pedal. In the middle of a draisin is a little table for your drink and two benches on both sides, so that you can sit back and relax watching the others do the work…
Our route is a bit longer than 20km, which is approximately 4hrs of pedalling. On the way, we catch up with a family who are traveling with a tiny baby. And a bit later in the trip, it is us who get caught. By a crazy group of Austrian dudes (yes, I just used the word 'dude'), who most definitely have had their good spirits boosted up with some typical Austrian beer. You can tell that by the way they push our draisin with theirs, and also by the way they talk…shout? This sounds very much so like a loud noise of Vikings returning from a won battle. To complete this description, I must add, that they were pedalling half naked with their beer bellies fully exposed. Gorgeous (not).
However, the beauty of traveling by draisins is that you can stop and come out of your route almost anytime. Which is exactly what we did. We let the Vikings go and made a stop en route. We had some spritzer (for those who are not familiar with the terminology; spritzer is the drink of gods… or in other words, wine with sparkling water). Bubbel and I eat some Appfelstrudel too – this is the most amazing apple pie equivalent I know (except for my mum's which, of course, is the best in the world).
After this short pause, the boys put the draisin back on the railway and we continue our journey. I have to say, for guys – at least on our group- this whole trip means a bit of work. Every now and then, they need to jump out of the draisin, open the barrier, put it back down and then chase our vehicle, not to stay behind. Funny if you watch though.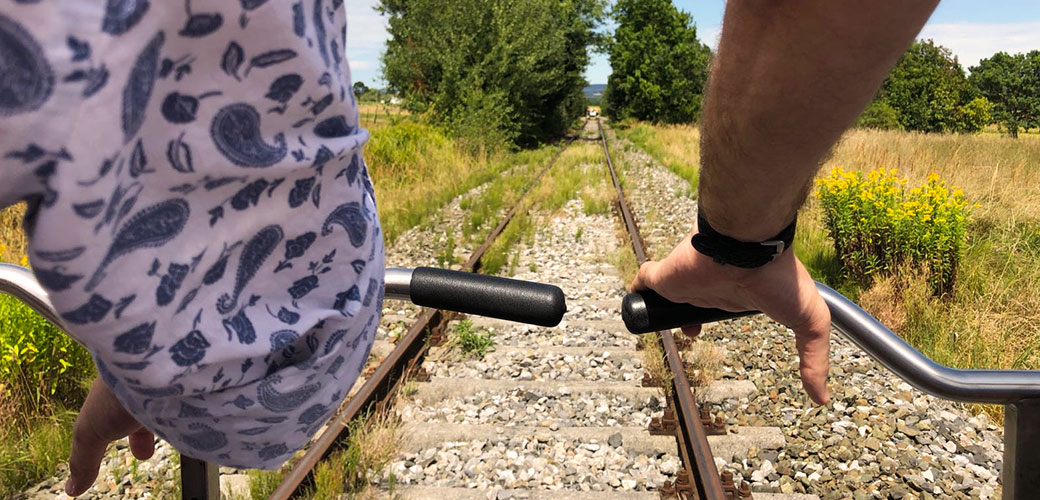 After more less four hours, we arrive at our destination. We have a choice of either going back the same route or taking a 'happy bus'. Like a joined taxi with others. We go with option 2 and we soon arrive at the parking where we previously left the car.
After such an extensive exercise (believe me, sitting down and watching others work can be quite exhausting) it's time to eat something. We go to a nice place with outdoor space where I munch nockerl – it is an Austrian version of gnocchi. I am told that nothing can beat those made by B's mum. I dare not to disagree but I am also sure that it is true. Although the portion I get is super tasty – and far too big!
The day is slowly coming to an end. Some of us go for a run (not me), some of us stay at home and play cards. Now, those of you who are a) not lucky at card games b) have limited brain capacity to understand the rules, will understand what I am talking about. I suck at card games. Big time. I don't understand the rules (especially when those that are shown to me are not really the real ones – yes W, this one is for you! :)). So, after almost an hour of my teachers sweating from constant explaining, coaching and finally giving up, I am left with no games won and an appetite for some relaxing time.
B and his brother want us to go to this golf field nearby. Apparently, what is waiting for us out there, we will never forget. And we are not disappointed.
Have your ever walked across a golf field barefoot? If not, you must try this. Look for a place where you can take your shoes off and touch the finely cut, slightly wet from the evening dew grass with your Hobbit feet. Sorry – I mean, I have hobbit feet. I don't know about you thought. Should not be making judgements.
The grass is as soft as pillow and we love the walk so much, that we end up in Hungary. This is a sign that we should to back. In the morning, we are leaving Burgenland – the land that for me, from now on, will simply always be famous for its draisins.
Warning: "continue" targeting switch is equivalent to "break". Did you mean to use "continue 2"? in /home/.sites/285/site1459/web/webseiten/bellyinlove.com/wp-content/plugins/smart-slider-3/library/smartslider/libraries/slider/slides/slide/container.php on line 42